22 september 2022
Reading time 2 minutes
A supercharged partnership
When Kalmar told Alelion they'd need a lithium battery for their flagship forklift, they said yes. When they were told they had eleven months to do it, Alelion again said yes.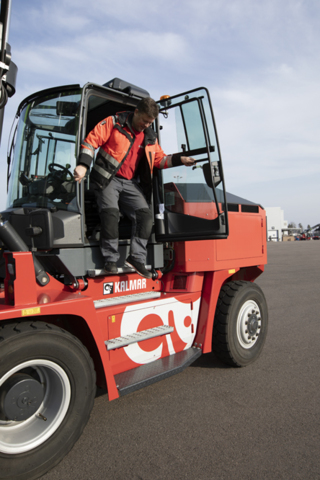 A few years ago, Kalmar needed a new battery supplier for the ECG90-180 forklift when the previous battery supplier was unable to deliver the required lithium battery solution.
They found a new partner in Alelion, a Swedish company with fifteen years experience in the business and who had also just pivoted their strategy toward companies like Kalmar.
It's usual for such development projects to take years, but in this case Kalmar didn't have the time to wait. Together with Alelion, they set the target at eleven months.
"We have three guiding principles: challenge, guide, enable. This project shows that we live by them," says Anders Dison, Alelion's Director of Sales & Marketing.
"Both sides were ready to challenge themselves and each other to work together in a non-traditional way, and we found new ways of working to speed up the process," Dison adds.
Winning concept
Everything seems simple in hindsight, but according to Kent Hyltåker, the project manager at Kalmar, it took a while to get everybody on the same page.
"We had to weave our development teams together, but at first we didn't speak the same language. Once we set up our steering group with representatives from both companies and added weekly meetings with Alelion's project manager Ingela Arvidsson, we found a winning concept," Hyltåker says.
"A key element was that we challenged Kalmar, too. That way, both teams were pushing each other to reach the goal. It was a perfect match."
To work, a partnership such as this requires transparency and honesty to make sure that both parties are of one mind and share the same goals and expectations. It is also important that they are equal partners who can set guidelines and make demands of each other.
"We, the technical staff, had several discussions about what was and wasn't possible while also understanding what needed to be done in the short time frame," Arvidsson says.
Parallel tracks
Due to the time pressure, the project steadily steamed ahead on parallel tracks at various points.
"One hurdle was that political decisions lagged behind the development," notes Dison. "While the certification can take two years, the market wants new products in eleven months. We had to take a risk and proceed based on the best scenario from the tests and simultaneously make plans for production start-up," he says.
All is well that ends well and today new Kalmar ECG90-180s with Ozelot 120-volt lithium-ion batteries have already been delivered to customers around the world.
"A key element was that we challenged Kalmar, too. That way, both teams were pushing each other to reach the goal. It was a perfect match," Dison concludes.