10 februari 2022
Reading time 5 minutes
Test, optimise, train – Harnessing the power of simulation and emulation tools across the terminal lifecycle
Our November 2021 webinar brought together a distinguished panel of Kalmar experts to discuss simulation and emulation tools and the benefits they offer at various stages of a terminal's lifecycle. In this article we summarise the key takeaways from the insightful discussion, which was hosted by Christopher Saavedra, Manager, Terminal Design Services at Kalmar.
Before launching into any discussion about simulation and emulation, it's important to clarify what each term means, as they are often used interchangeably when in fact they are two very different beasts.
With simulation, scenarios are based on calculations and assumed behaviour, rather than what would happen in a real terminal. With emulation, however, we're dealing with an exact replication of how things behave and interact in the real world – an environment that's as close to a real working terminal as it's possible to get without actually building one. These powerful tools complement each other and offer a host of advantages at many different stages of the terminal life cycle.
"Simulation is a fantastic tool for training equipment operators and for modelling and forecasting things like congestion, as well as for evaluating the effects of changes in things like yard layout or equipment numbers," explains Tomi Tuulkari, Director, Product Management, Kalmar Automation Solutions. "Emulation on the other hand is used to replicate a real terminal environment with real software such as the terminal operating system and equipment control system, with equipment behaviour and container moves being simulated."
Why use simulation tools?
Simulations are the quickest and easiest way to evaluate different terminal operation concepts, for example with different equipment types and varying levels of automation. "It's a great way to get a good initial impression of how a layout will work within the terminal footprint and analyse where to go next with more detailed methods like emulation," he says.
And of course, all of this can be done without the need to purchase any expensive equipment or disrupt terminal operations to perform infrastructure modifications.
"Simulation is also ideal for existing terminals that are not necessarily looking to change their operational concept but would like to analyse the implications of something like a change in stack orientation, for example."
"Our Kalmar Terminal Design Services team performs somewhere in the region of five to seven simulation projects with customers every year, with the scope varying between regions," says Christopher Saavedra.
"For example, we've worked with customers in the Americas to simulate the impact of things like different levels of RTG automation, customers in Europe to look at the implications of migrating to hybrid or fully electric powertrains and customers in Asia to compare automated guided vehicles with auto shuttles."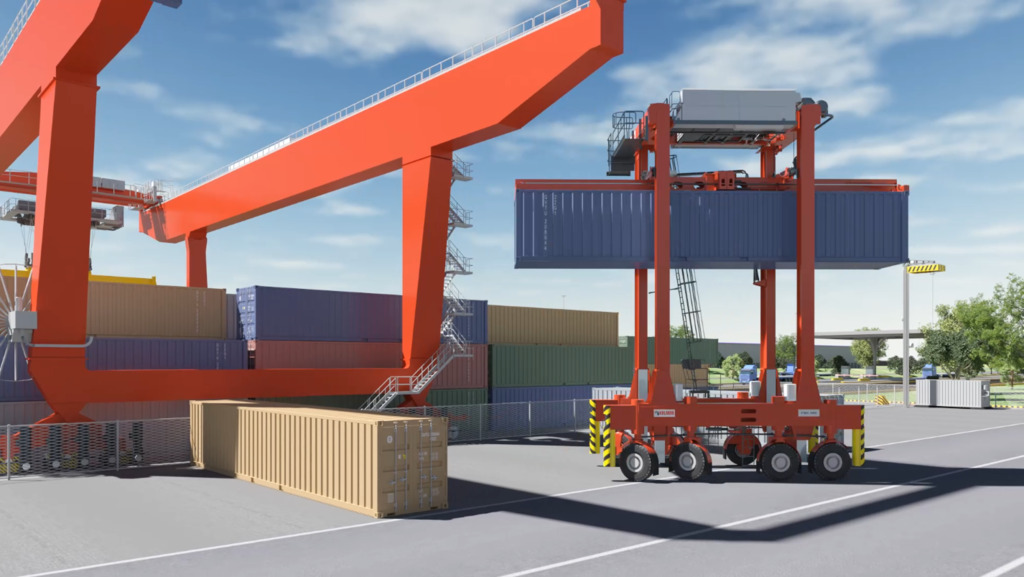 Why use emulation tools?
Emulation is a powerful tool for product performance benchmarking, fine tuning components such as the equipment control system and testing integration between the many different moving pieces in the delicate ballet that is a modern container terminal.
"In the project deliveries I have been involved with we have used emulation as the main tool for quality assurance testing, to make sure that the different system integrations are all working as they should," Tomi says. "And of course when we roll out updates throughout the lifetime of the terminal we can use emulation to test those updates before they go into the production environment."
Like simulation, emulation is also a powerful tool for training new operators as it provides an exact replication of a real-world terminal environment.
Benefits for automated and conventional terminals alike
Emulation is typically more closely associated with automated terminal deliveries because of the fact that it is used to test system integrations, while simulation has a role to play in both automated and conventional terminals. Both types of tools offer the opportunity to analyse the potential impact of changes without disrupting operations, regardless of whether we are talking about an automated or conventional operation.
While simulation and emulation are not currently widely used for daily operational planning, this is something the industry should be aiming for. "If we take Formula 1 as an example, teams need to develop a specific race plan for every different track. We could apply the same strategy to vessel visits – planning how to optimise yard operations, how many machines to devote to the visit, where to locate the quay cranes and so on. Operations teams can then analyse how the visit went and gain valuable insights to help them further optimise their processes and planning for next time," Tomi continues.
Emulation at Kalmar
Scenario Modeller, part of the Kalmar One automation system, is composed of four modules:
the

emulation platform management system

(EPMS), which handles emulation configurations and scenario setup, storage and replay

external simulators

to simulate components such as the terminal operating system, optical character recognition system and gate operating system

simulators for manual equipment

like quay cranes and other equipment types

training manager

, which also enables remote delivery of operator training
"At Kalmar we use emulation tools to assess the performance impacts of new features, and in this way it's a critical part of our product development process," Tomi points out. "It allows us to test a large number of moves under different settings in a safe, non-disruptive way, helping us to avoid unpleasant surprises when we move to the production phase."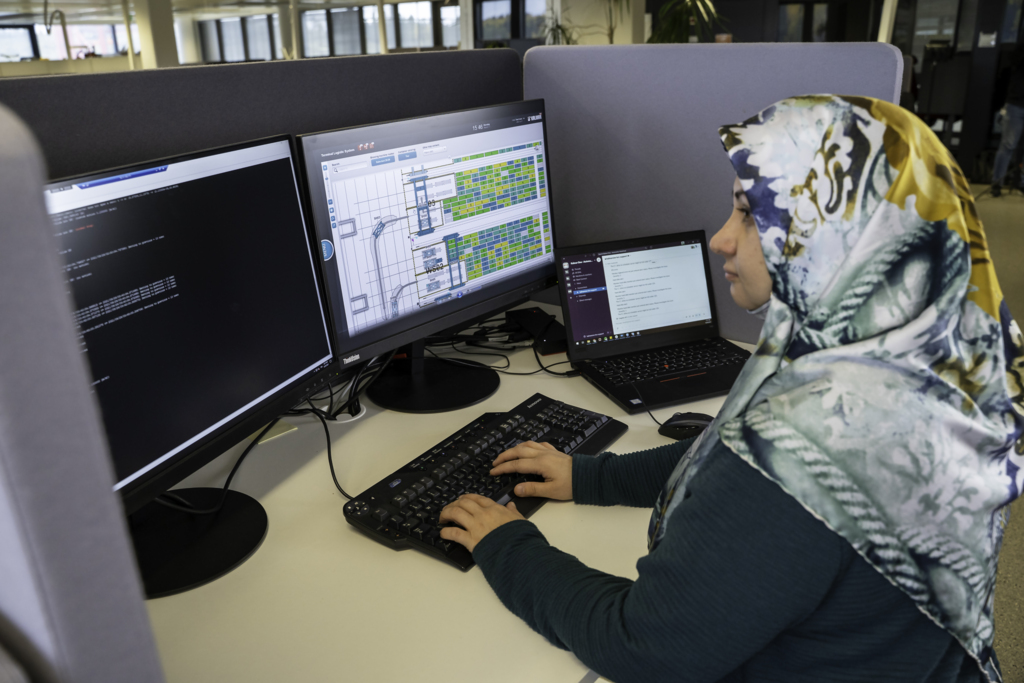 Which tools to choose, when and why?
Simulation is the obvious choice in terms of building a business case, justifying investment decisions and comparing different terminal operating concepts. "It's also a fantastic visual aid when seeking approval from authorities and for other administrative processes like that. Emulation is the ideal fit when we drill down to the nuts and bolts of a terminal project, with integrations and in the early phases of a deployment. In addition it is a brilliant tool for identifying and rectifying gaps in your individual process flows too," Tomi says.
Tomi highlights that he would like to see more customers requiring emulation to be part of the tendering process. This would give Kalmar the opportunity to demonstrate the performance achievable with a specific terminal setup and layout and how the required functionalities could be integrated into the system as per the customer's specific needs.
"In terms of KPIs, typically with customers we are using simulation and emulation to look at operational KPIs related to performance or cost," Tomi says. "With Scenario Modeller we offer quay crane moves per hour and we're aiming to offer even more KPIs out of the box in the near future because we know how important these numbers are for supporting our customers' decision-making. We would certainly like to move in a direction where we can provide KPIs that are more closely aligned with the scope of supply that we have when providing the equipment and related automation technologies, for example the lane availability KPI."
"KPIs are measured in different ways at different terminals, so we need to be agile and adjust to the customer's way of working." Christopehr continues. "Customers are also using simulation to support their decarbonisation efforts by analysing the impact of switching to hybrid or fully electric equipment on their overall emissions footprint."
A good indication of reality, but not a magic bullet
Wrapping up the webinar, the panel considers the question of how much you should rely on the results generated by simulation and emulation tools. "The results are always a good indication of what will happen in reality," says Tomi, "but we always need to keep in mind that these are experiments conducted in a vacuum; in a real-world environment there is always a lot we cannot control.
"There are a lot of good mechanisms in place to make simulation and emulation results more accurate, such as kinematic tests where we can run machines on a specific route on site and then run the exact same move in an emulation environment to verify the results.
"While with our Scenario Modeller we can introduce exceptions and suchlike, we can never 100% replicate the complexity of a real terminal environment. However, the KPIs we obtain from simulations and emulations are meaningful and can be compared to real-world KPIs to demonstrate the expected productivity increase of a feature improvement, for example."
Interested in hearing more? Sign up for the on-demand webinar here!